英国时间2月13日,适逢中国农历新年的大年初二,2021 年爱丁堡中国官方新年音乐会如约而来。因受新冠肺炎疫情的影响,以往在爱丁堡usher Hall 举行的现场音乐会由于疫情的原因,通过中国最大线上媒体平台东方网进行播出。虽然只是在网络世界隔空相聚,精彩纷呈的节目和令人感动的祝福却将海内外同胞和友人的心牵得更近。整场音乐会以中英双方传统文化特色为主体,在领略中国和苏格兰文化魅力的同时,也为隔离抗疫期间的两国人⺠带来了深切的慰问。
The 13th of February– observed as the second day of the Chinese lunar calendar – the 2021 Edinburgh Official Chinese New Year Gala which usually held in Usher Hall in Edinburgh had to be moved online as a result of Covid-19 restrictions. Despite the gathering being virtual rather than physical, the wonderful performances and moving speeches joined the hearts of viewers in both the UK and China. This year's gala was themed for the traditional characteristics of Scotland and China, bringing deep consolation to all parties through the charm of both nations' cultures.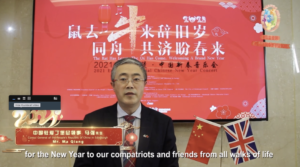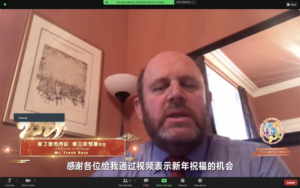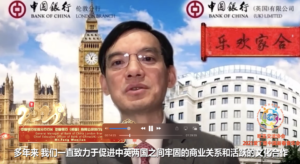 出席此次线上音乐会的嘉宾有中国驻爱丁堡总领事⻢强先生,爱丁堡市⻓弗兰克·罗斯先生,中国银行伦敦分行行⻓、中国银行(英国)有限公司执行总裁方文建先生,各城市议员代表、市⻓代表以及商政界代表。此次音乐会特别邀请到⻘岛市歌舞剧院交响乐团担任演出嘉宾,带来了交响合唱《⻩河》、打击乐队《⻰腾⻁跃》等多首经典曲目,用激昂澎湃的乐章,奏响了祖国锦绣山河的壮阔。
This event welcomed the attendance of Consul General Ma Qiang of the Chinese Consulate in Edinburgh, Lord Provost of the City of Edinburgh Frank Ross, Director of Bank of China London Branch and Chief Executive Officer of Bank of China (UK) Ltd. Mr. Fang Wenjian, the provosts and local authority representatives of many regions in Scotland, alongside leading figures in commerce. This event welcomed by special invitation Qingdao Opera House Symphonic Orchestra, who performed such classics as the choir piece 'Yellow River' and the percussion piece 'Soaring Dragon Leaping Tiger', vividly portraying the grandeur of China's mountains and rivers.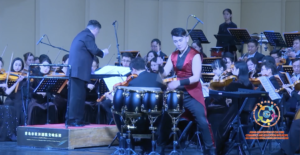 苏格兰风笛,苏格兰舞蹈也为新春音乐会带来了独有的苏格兰民族特色。少儿节目也是此次音乐会的一大特色,展现出中英两国⻘少年的靓丽⻛采。其中,由中国著名笙演奏家、国家一级演奏员李裕祥、上海音乐学院⺠乐系副教授、琵琶国家二级演奏员汤晓⻛、上海育果学生艺术团阮专业指导瞿雯艳带领上艺术团的孩子们带来的⺠乐合奏成为演出中展现中国⺠族文化传承与发扬的一大亮点。
The Scottish Bagpipe and Scottish dance also brought unique Scottish characteristics to the New Year concert. Performances by children were also a highlight of this year's gala, exhibiting the rising talent of British and Chinese youths. Among them, performances led by renowned Chinese reed pipe player and National Level One performer Li Yuxiang, Deputy Professor at Shanghai Academy of Music and National Level Two Chinese Mandolin player Yang Xiaofeng and Shanghai Yuguo Student Art Troupe Conducted Qu Wenyan brought to life Chinese folk culture as it is passed on and developed.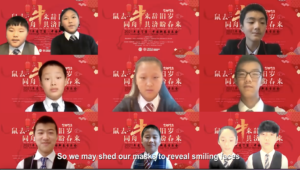 此外,爱丁堡汉语教育中心和上海育果学生艺术团的同学 们还共同带来的朗诵《假如我有一支神笔》,讲述了善良纯洁 的孩子们希望早日克服新冠疫情的美好愿望。尽管相隔万里,今年,还在英国隔离期间的友人们还收到 了一份来自中国的特别新春礼物——上海育果学生艺术团书法 班的同学们和优芮思教育剪纸班的同学们将他们亲手书写制作 的横幅、春联和剪纸漂洋过海寄到了英国,并通过欧亚交流协 会的志愿者们逐一送到了英国友人的手上,一同分享新春的喜 悦氛围。
In addition, the students of Edinburgh Chinese Education Centre and Shanghai Yuguo Student Art Troupe both delivered a poetry reading of 'If I Had A Magic Paintbrush', conveying the innocent wish of the children for us to overcome the coronavirus pandemic.Despite the thousands of miles between Scotland and China – on top of virus lockdown restrictions – our friends in Scotland were still able to receive very special gifts for the new year; paper cuttings and works of calligraphy from Shanghai Yuguo Students Art Troupe were sent to the UK and delivered into our Scottish Provost and friends by volunteers from the Asian Association of Culture, Commerce and Education in Europe, spreading the spirit of the festive season.


寒冬过后,暖春可期。祝愿在新的一年,中英两国友谊⻓存,共克时艰,迎接崭新的未来,也让我们共同期待未来爱丁堡中国新春音乐会更上一层楼。
After the bitter cold of winter has passed, it is time for the warmth of spring. We hope that in the new year, the friendship between our two nations will grow ever stronger, heralding a brand new future. Let's all look forward to the future of the Edinburgh Official Chinese New Year Gala shining even brighter in the years to come.