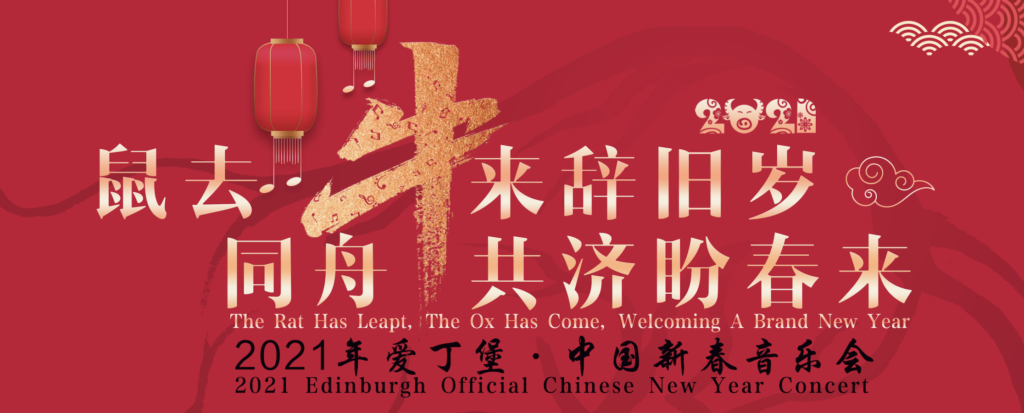 鼠去牛来辞旧岁,同舟共济盼春来,在中国传统新春佳节即将来临之际,我们又迎来了一年一度的爱丁堡中国官方新春音乐会。
尽管新冠肺炎疫情让海内外同胞及友人无法齐聚现场共襄盛会,但欧亚交流协会克服重重困难,突破疫情的阻隔,首次开展线上"云"新春音乐会。
本次线上音乐会得到了中国驻爱丁堡总领事馆、爱丁堡市政府、中国银行(英国)有限公司、以及苏格兰旅游局的大力支持与帮助。全场音乐会将于北京时间2021年2月13日晚19点,(英国时间2月13日上午11:00)通过东方网线上平台准时播出,届时,欧亚交流协会也将提前发布音乐会线上收看网址和二维码。
欧亚交流协会长期以来,凝聚侨界各方力量,联动中英各界人士,集结中英专业艺术团队,每年都会举办爱丁堡中国新年音乐会,不断地增进中英双方友谊。今年,我们以中英双方传统文化特色为主题,为海内外观众呈现一场丰富精彩,年味十足的演出。此次音乐会不仅特别邀请到青岛市歌舞剧院交响乐团带来龙腾虎跃的新春祝福,您还将欣赏到来自中国的民乐名家与孩子们共同演绎的民乐风采,以及苏格兰风笛与民族舞的独特魅力,此外,还有中英双方的同学们为我们带来的暖心祝愿。
想了解更多精彩内容及幕后花絮,敬请期待2021年爱丁堡中国官方线上新春音乐会吧!
The rat has leapt, the ox has come! At this festive time of year, we yet again welcome the annual Edinburgh Official Chinese New Year Gala.
Due to coronavirus restrictions, we are unable to gather in-person to celebrate. However, the Asian Association for Culture, Commerce, and Education in Europe has overcome numerous obstacles and broken through the barrier created by Covid-19, in order to present our first online cloud Chinese New Year Gala.
This year's online gala event has received the help and support of the Chinese Consulate in Edinburgh, the City of Edinburgh Council, Bank of China (UK) Ltd., and Visit Scotland. The entire event will be screened at 7 pm Beijing time (11 am GMT) on 13th February 2021 on Eastbay. Closer to the time, AACCEE will release a QR code for online viewing.
For many years, AACCEE has brought together the strength of the Chinese expat community, mobilized talents from both Chinese and British backgrounds, and called upon Chinese and British expert performance groups, in order to host the Edinburgh Official Chinese New Year Gala every year without fail, and further bilateral friendship without pause. This year, the gala's theme is based on the unique traditional characteristics of both countries, offering a wealth of wonderful and fully festive performances. This year, we have been most fortunate to be able to invite the Qingdao Opera House Symphony Orchestra to perform Soaring Dragon, Leaping Tiger. The audience will also be able to enjoy celebrities of Chinese folk music leading a performance alongside an orchestra of children, the special charm of Scottish pipers and Scottish country dancing. In addition, there will be a heartwarming message from students in Scotland and China.
Want to see more content and get behind the scenes? Then look forward to the 2021 Edinburgh Official Chinese New Year Gala!